Few days back, I have shared a Google Analytics screenshot on my Social Media channels. Let me show you now, if you have missed. See below:
On LinkedIn:
On Instagram: 
So the whole story is: What is science behind this massive traffic? Is it Bot or any Magic ?   
Before you read full story, Let me tell you something …. I haven't used any bot … This is my Social Media strategy which I have been using for my clients since 2 years.
Trust me guys I have got superb response. May be your experience says something but in my opinion Client always want conversion either from organic Traffic or Social Media Traffic. This article will help to the beginner level bloggers and for those who are working in any organization and their task is give conversion to Clients.
If you can't read this whole article, bookmark it right now and come back later to read it because I really want you to read this and share your feedback via comment box and I really feel appreciate your efforts in making comments 🙂 
OK Now Lets Get started:  
Social Media Channels –  If you are a blogger or if you are working with any company you should create social media channels like Facebook, Google, Plus, Twitter, LinkedIn, and so on. Having social media channels will give a very good impression on your audience and with the help of social media marketing you can increase your website traffic. So most importantly you should create Facebook.
Also Read: How to Increase Likes on Facebook – 12 Proven Method
Facebook Marketing – When we talk about Facebook marketing it means you should promote your content with the help of Facebook. So make sure your page must have Profile and Cover image. Don't forget to add about section.
Content – For incense traffic, you should create high quality content. If you're not creating high quality content then you won't get high traffic.
Also Read: Top 9 Blogging habits one should build to boost their possibility of success
Open graph Tags –  I'm sure you know about open graph tag of Facebook, if you don't then check out the Facebook developer tool in which Facebook shared how you can use Facebook open graph for your business.

If you are using WordPress as CMS you can use plugin like Yoast and with the help of us plugin you can create OG tags and if you are creating any custom website then you can manually add OG tags in your head section.
Here's an example of content formatted with Open Graph tags for optimal display on Facebook:
Business Facebook – Since last 2 years Facebook business is very important. I'll be sharing more tips how we can use business Facebook.
As the network itself puts it, Facebook Business Manager allows you to "manage ad accounts, Pages, and the people who work on them—all in one place."

It's a one-stop shop for all of your Facebook marketing and advertising activities, with controlled multi-user access to additional resources like your Instagram account and product catalogs.

It's also a central place to track your efforts, with detailed reports and visualization that show you how your ads are performing. – Hootsuit
Go to business.Facebook.com and click the big blue Create Account button at the top left of the screen.
Once you login with business Facebook make sure you have added all your page there.
Verify Your Domain – Verifying your domain is another very inserting thing in business Facebook. With the help of this category Facebook check the authenticity and ownership of the website. Nowadays fake content is very common on Facebook. You might have seen some fake stories on Facebook and to protect user and provide quality data, Facebook launches last year domain or domain safety. For Domain verification, You need to upload a file on your root of domain and Facebook does verify it in a second. See the Image Below: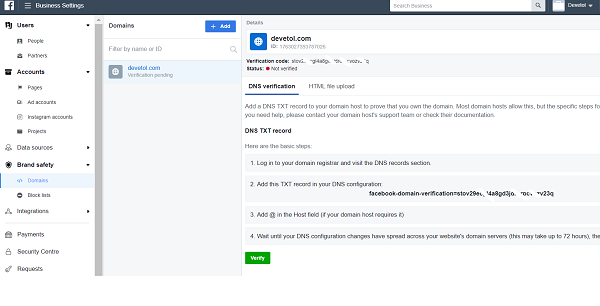 Domain verification in Business Manager provides an easy way for businesses to show domain ownership without the need to edit Open Graph markup tags on their websites. Business Manager also allows businesses to easily assign Pages to their verified domains as well as share those domains with trusted partners. Domain verification supports the protection and integrity of your content to ensure it isn't being misrepresented. By verifying your domains, you claim and maintain control of editing privileges to your content and links. – Facebook
Who Should Use Domain Verification
Facebook says domain verification can be particularly helpful if you
Have numerous Facebook pages to manage
Use Business Manager
Can upload HTML files to the web root directory
Can edit DNS TXT records
Can edit page posts that include links to your content
Attractive Thumbnail –  So now you have content, Facebook page and you have already verified your domain and now it's time to create attractive thumbnail. In my experience I have faced many challenges in Facebook marketing while adding images. Make sure to use attractive thumbnail along with some text.
Facebook says:
Use images that are at least 1200 x 630 pixels for the best display on high resolution devices. At the minimum, you should use images that are 600 x 315 pixels to display link page posts with larger images. If your image is smaller than 600 x 315 px, it will still display in the link page post, but the size will be much smaller.
No clickbait Thumbnail – I have seen many times, people have been using this trick that we called clickbait. Here I am not recommending you to use clickbait I am sharing you one of the example of clickbait. Check Below:
Also Read: This 'Stop Clickbait' Facebook Page Is Tackling Clickbait in the Best Way Possible
Create a Facebook Group:  I am sure you must aware about Facebook group if you are not using Facebook Group I am suggesting you to create a group right now because that's a very important for traffic.  Add cover image and write some description and also add some people.  you have to grow your Facebook group no matter from 100 to 2000. It's upon you and Initially you should increase number whatever the number is.
Link your Facebook page-  Link your Facebook page with the Facebook group. As you can see in the Image below I have linked my Facebook page with the Facebook group. While posting content on Facebook group your name won't appear there.
You will see their option to select either your name or your company account. So all you have to do is to share a link of that high quality content including your thumbnail. So once you will post in that group it would display like this.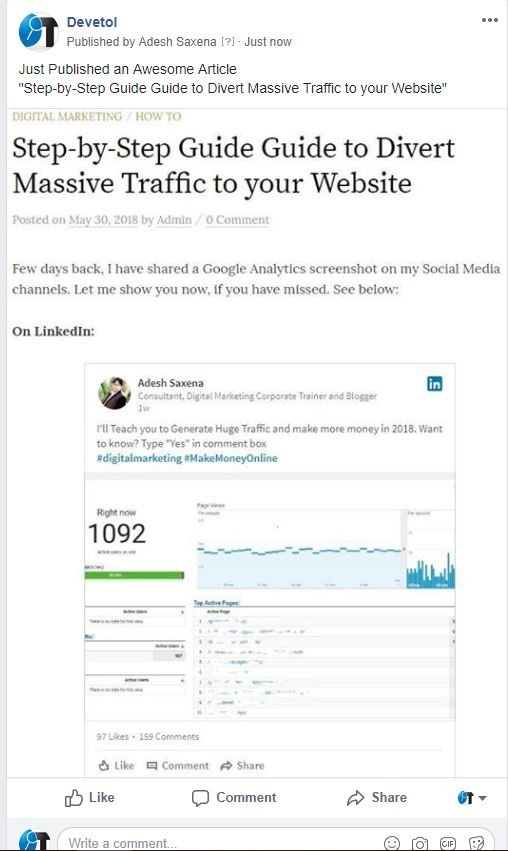 Now its time to share your group link to your page. See How I did:
Step 1: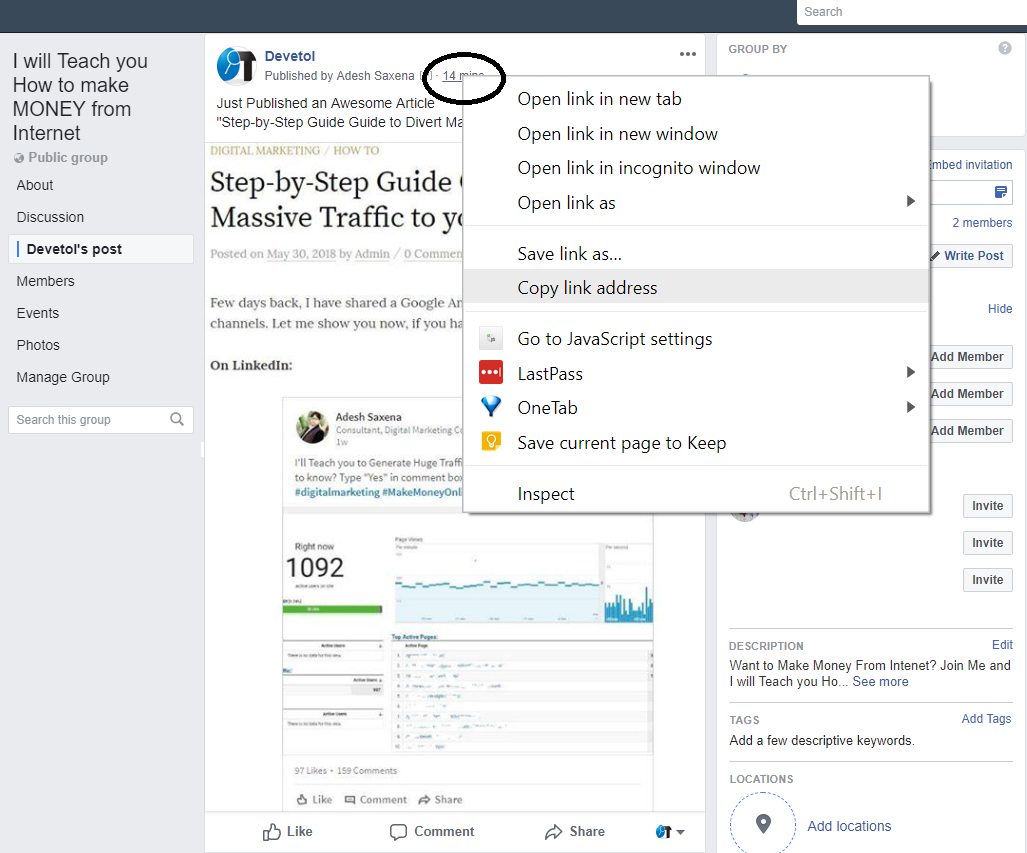 Step 2: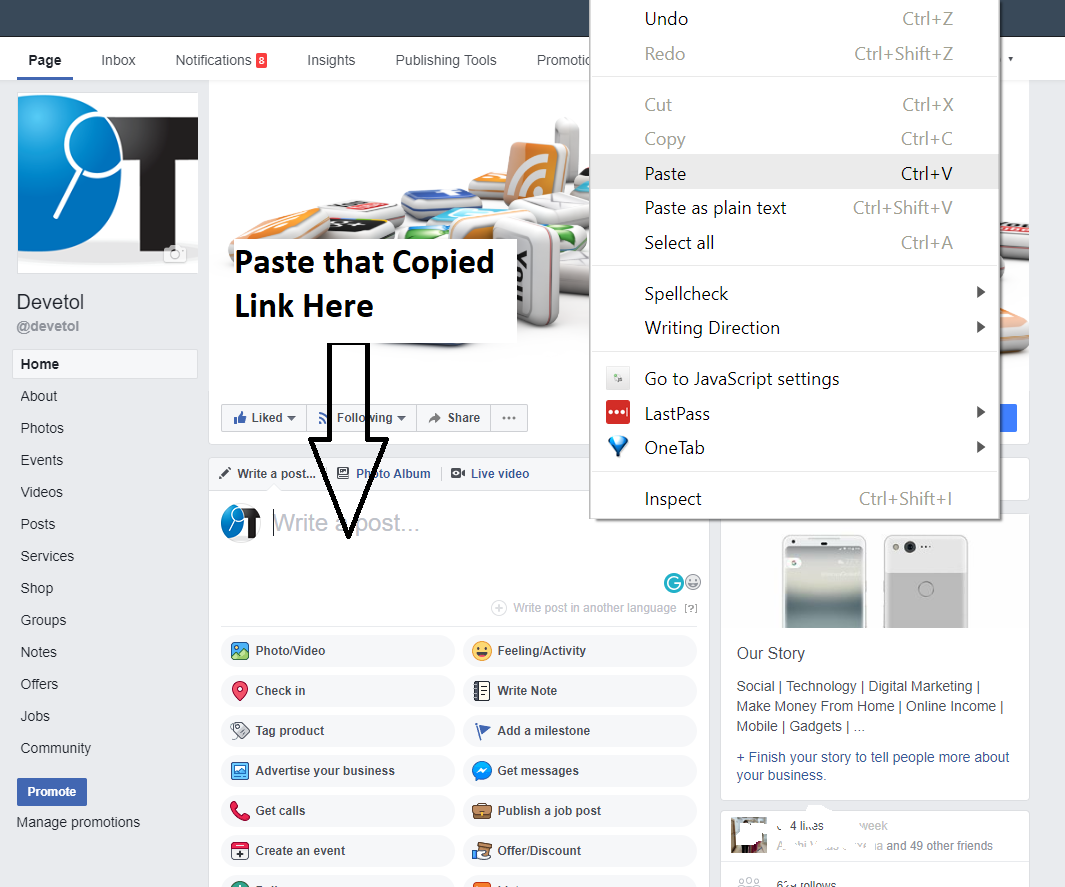 So with the help of this trick your post will be delivered to your audience 3 times then you have been doing since long. I have been doing since 6 month and giving very good result to my clients.
So if you will do this activity your audience will improve. You can connect your audience by replying or by liking your comment or by commenting something important in comment box. It will give signal to Facebook to promote your content to larger audience.
I am sure you have been observing Facebook reach down since 2 years and it's really matter of concern that people nowadays are not getting desired result in terms of conversion, in terms of reach, in terms of traffic because your post that you have been posting on your Facebook page is not going to even 1% of your audience.
Facebook has strong algorithm to fight against clickbait and fake stories. If you are posting high quality content and that's not violating Facebook policy then you can promote your content to too many people.
I have seen many pages having millions of Facebook page likes and  their reach has gone. Main reason is that due to Facebook algorithm what algorithm.
Trust me guys that's a very important trick and I have been using it since six month and I have got very amazing response from my clients.
That's a small trick I have shared with you all.
I have lot of things to share with you people. I will be sharing more with you. Subscribe my newsletter and you will get updates directly in your email inbox.
In my next blog I will be sharing an Article on How you can increase your Facebook like organically 
I have lot of things to teach you and if you want full package of ADVANCE digital Marketing Training you can contact me.
Trust Me,  I have bundles of tips which can give you more revenue and more traffic. 
Thank you for reading this article and if you have any question, you can ask in comment box. I will be happy sharing my experience with you all. Don't forget to share on social media for others. Take Care, Enjoy your Day!!
P.S. – Please Message me for any correction/Update/Feedback.
About Me