Now a days Facebook Marketing is increase day by day because of its traffic and user engagement. Every small big company managing their Facebook business pages but due to lack of knowledge about Facebook Marketing they fail to get good response. Let say an example about e-commerce Facebook page. Posting various products day by day and sharing website links will not work. You have t think out of box and adopt some Facebook marketing strategies.  Here I am sharing 10 Facebook Marketing tips that you should know :
1. Cross Check your Setting From Admin Section of Facebook page:-
Posting ability allow user to post on page timeline as well as anyone can add photos and video on page timeline. You can also hide post the post from Posting Ability. I am saying because any of your Facebook page Fans have left a negative feedback on your timeline then it would throw a negative impression to other fans. So you have to monitor your Facebook page for avoiding these problems. Set Message Option enable for everyone so that they can message you privately. Tagging ability means anyone can tag their friends in Photos and videos post by you. Lets understand about Tagging from Facebook 
"When you tag someone, they'll be notified. Also, if you or a friend tags someone in your post and the post is set to Friends or more, the post could be visible to the audience you selected plus friends of the tagged person.
Tag people in your posts
Add tags to anything you post, including photos and updates. Tags can point to your friends or anyone else on Facebook. Adding a tag creates a link that people can follow to learn more.
Tell people about stuff they're in
Adding tags can let people know when they're in photos or other things you share. People you tag can receive a notification so they can see your post. The post may also go on the person's profile and appear in their friends' news feeds.
Help tag things other people missed
You can tag other people's photos and posts to help them add details. Your name appears with the tag, so it's always clear where it came from." 

Now come to Similar Page Suggestions, set this option enable by check mark because your page will be in list of suggestion of similar pages people might like on a page Timeline. See this picture below: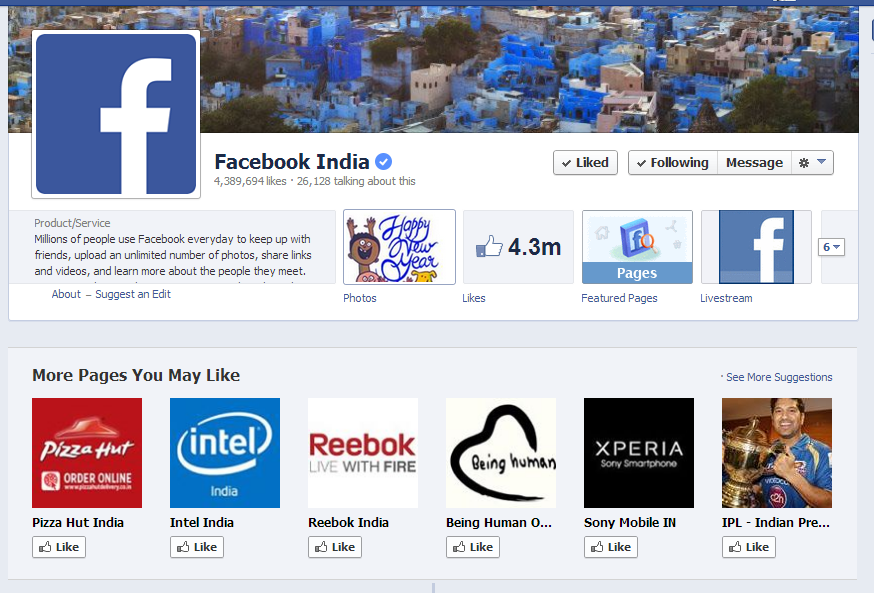 2. Find Average reach and engagement from Facebook Insight:- 
Faceb0ok Insight option is very interesting option for Facebook pages admins to get the details about user engagement on their Facebook Page. With the help of Facebook insight option a page admin can find that in which type of content, Facebook fans are interested.
3. Add Facebook Page Tabs:-
Your Page has a standard set of "tabs," including a wall where posts and comments are published along with Info tab with general information about your company. You can see in the example in the Pic below:-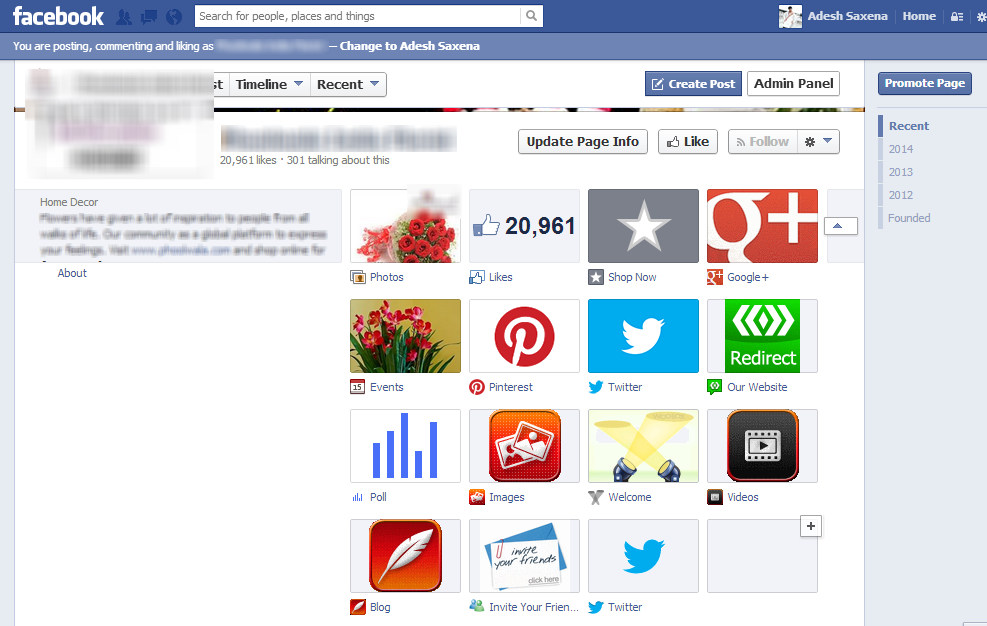 As you can see in above pic I have added lots of social Facebook tab. In this way your business page will look more fabulous as well as more professional. Expert says that if you have Facebook page then include Welcome tab as Custom tab. I have also add other Tabs Like Google Plus and Twitter. If you want to add same then Click here and add Facebook tab.
4. Assign Admin Roles:- 
Page admins can have 5 different types of roles with different work role. Only Manager have rights to change the role as per need. There is no limit of adding page admins for your Facebook page but make sure to give admin rights to trustworthy person. In below pic you can see a different role of admins:
5. Regular updating and Keep Content Fresh:-
Give fans a good reason to come back to your page frequently by adding fresh content on a regular basis. Remember that regularly updating the page doesn't need a significant amount of extra effort.
6. Photos Vs Links:- 
I think this is very important question about sharing links or Photos on your Facebook Page. As I have already explained about Soical Spam in my recent blog Post and I think you have understood which is better Photos or Links. Add some good royalty free Images and in caption add some description along with your shorten URL of your blog using call to action. Here I am giving you two example.
Example 1:- 
Example 2:- 
Call to Action is very important in online marketing as well as in Social Media marketing. Posting content on Facebook with such strategies will bring the visitor to your website but you have to be very honest about Social Ethics. In my opinion above two examples are finest one.
7. Run a Facebook Contest:-  Facebook Contest is really great idea for page admins. You can run various contest over Facebook (keeping Facebook Terms and policy in mind) and in result you will get a good engagement. Make sure about social interaction because sure user will ask something and this comes in social ethics to give proper response.
In this way user will take more and more interest in your Facebook contest and may be your fan share your post on other friend's timeline.
8. Sponsored Post:-
Sponsored Stories is one of the best ways to invest in Facebook advertising. This is cost-effective solution that can help increase your business page visibility throughout the Facebook platform. With the help of Facebook Ad program you can boost your post and increase visibility as per your need. According to TBG Digital, Facebook's new Sponsored Stories ad units nabbed a 46% higher click-through rate, a 20% lower cost per click and an 18% lower cost per fan than Facebook's standard ad units.
9. Scheduled Your Post:- 
Scheduling Facebook Page's post is very interesting feature. As of now there are lots of application like Postcron, TweetDeck, LaterBro , HooteSuite and so on. You can also use them but when your post will be publish then it will display as "Post update via Postcron" which looks bad. Just Click Here to read more about Scheduling post by Facebook.
10. Facebook Group Posting:- 
There are many Facebook group available with huge numbers of fans. When it comes to get target audience , Facebook Group posting is one of the best way to spread your content. All you have to do is, Join some niche related groups and post with unique description and a photo along with your website link. Keep in mind about rules and regulations of that Group if you will do spamming then moderator of the Group will ban you.
I have analyzed same strategy of Facebook Marketing Tips and Found that one can boost his business. There is no any rocket science behind all Successful business campaign. Most of the big company are growing day by day because of adopting Social Media Strategy in their online marketing campaign. I have shared all these things if you have more ideas then please share via comment box.