Twitter is well-known as most popular social networking and micro blogging site. There are lots of benefits of using twitter website for your SEO projects. You can customize your twitter profile and background as well. The main benefit of customize Twitter background image is that , you can tell your followers about your business, work, projects, bio and so on. I am sure you have seen the background image of some popular Twitter User. You can also add your own as well as point your business identity to your followers. You can change Twitter background image in two ways – i) From Twitter Theme , ii) By uploading your own image.  Here are some steps, follow them and in couple of minutes you can change your twitter background:-
Step. 1: Sign in to your account.
Step. 2: Go to your Settings and click on the Design tab.
Step. 3: Scroll down to the Customize your own section.
Step. 4: Click on Choose file to upload a background image. Images justify to the top left of the screen. (file must be smaller than 2MB).
Step. 5: Check the box to Tile background if you want your picture to repeat across the background.
Step. 6: Choose whether your Background position will be left, center or right.
Step. 7: If your image isn't very large, choose the background color that will show behind the image.
Step. 8: Click Save changes.
Let see this video which will help you in customizing your Twitter Background Image:-
Adding twitter background image is very easy and important. You have to maintain your twitter profile in such a way so that twitter user follow you and retweet  your tweets. When it comes to design a well professional twitter background there are lots of online free tool. You don't need a designer , you can design image by below mentioned tool. As of now there are lots of Online tool but I like Free Twitter Designer. Here I am sharing Online Twitter background Image tool:
1. Free Twitter Designer: This tool  will help you create free Twitter backgrounds that have the same look and feel as those done by professional graphic designers.
2. Artweet: Artweet is a simple service and free to use so you can quickly make your twitter a little more pretty. It allows you to make the most of your twitter background by displaying a picture and or some messages.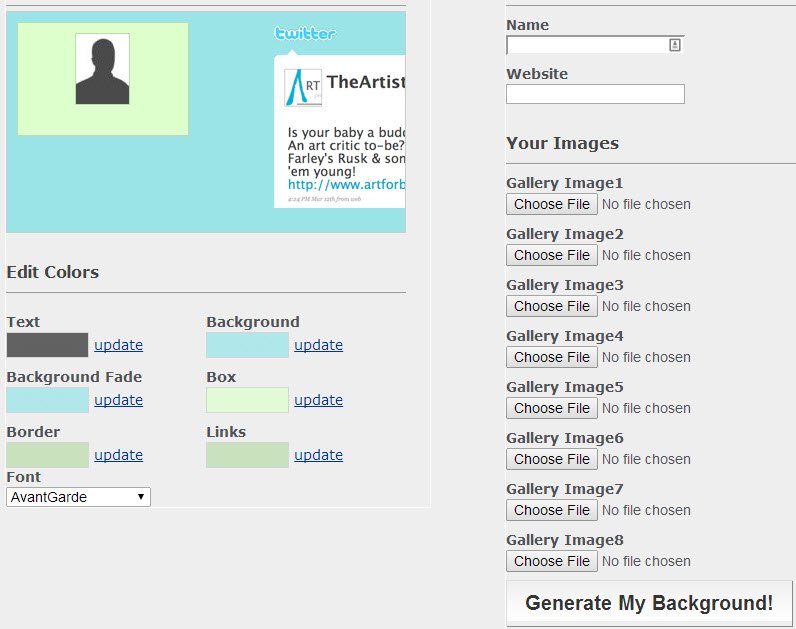 3. Twitter Images : Twitter images gives you lots of attractive Twitter backgrounds. There are lots of categories available like 3D, abstract, cars, Fantasies etc. You can create a well professional background image absolutely free but if you will pay few dollars then they will give a good-looking HD image according to your need.
Hope this article will help you in customizing your own Twitter Background Image. If you like this post then do share on social media for others. If you have any doubts then do share via comment box.