Few years back, I have created account on Pinterest and found that using Pinterest is very interesting and user-friendly. Pinterest is a pinboard-style photo-sharing website that allows users to create and manage theme-based image collections such as events, interests, and hobbies. Pinterest is very popular site mostly used by US and there are lots of daily active members. Here is my Pinterest Profile: www.pinterest.com/adeshsaxena
Before discussing the main topic lets discuss the important features of Pinterest:-
1. Boards:-  
Boards are just like folder where you organize your Pins (fav Images and Videos of your interest). You can set up group boards to share ideas and plan with your friends. You can even make a board secret (visible to you only)—perfect for gift ideas or other things you want to keep a surprise. Here is example of secret boards:
Follow people and boards to get their latest Pins delivered to your home news feed. You can follow all or someone's boards or just the ones you like best.
2. Pin and Repin:- 
A pin is an image or video you add to Pinterest that link back to the site where it was discovered. You can pin anything you discover on Pinterest or around the internet. The best ways to pin A pin is an image or video you add to Pinterest. You can add a pin from a website utilizing the Pin It button or from the site's URL, or you can upload an image from your computer. All pins should link back to their original source. A repin is adding an image you discover while searching Pinterest to your own board. When you repin an image, the user who initially pinned the image will also get credit. Repins maintain the source-link of the image no matter the number of times it's repinned.
There are lots of interesting features like site verify, Pinit widget and many more. I will discuss these topics later on. So lets come to main topic Why one should use Pinterst for his business or in other words you can say How to use Pinterest as Social Media marketing.
Also Read: 10 Facebook Marketing Tips for Managing your Business Page
Recently, companies have started to explore the benefits and advantages of Pinterest. Few years back Pinterest reported having over 10 million unique visitors. In the past six months alone Pinterest has growing over 4000%.
Josh Davis of LLsocial.com clearly explains the workings of Pinterest buying behavior:
"For retailers, the path to purchase from a social network is no more direct than on Pinterest. 'See it, like it, buy it' happens frequently … Even in cases where the path to purchase is not as direct, rarely do you have a social network where linking to for-sale items is done so frequently. You have clear social proof of the desire for the item, you see a picture of it, and you are only one or two clicks away from being on an e-commerce site."
As an online business owner, you've likely heard a lot about how Pinterest can drive online sales. This is my hands on experience with different e-commerce company and after working on Pinterst I have seen my websites are getting huge traffic from Pinterest. I have created companies profile on Pinterst. Few of them are:
http://www.pinterest.com/phoolwaladotcom/
http://www.pinterest.com/mumbub
http://www.pinterest.com/foodingout
http://www.pinterest.com/cozyposyonline/
http://www.pinterest.com/talkingtulips/
http://www.pinterest.com/greenlivingbees
http://www.pinterest.com/sognointerio/
Pinterest will not only provide you with more backlinks to your site, an important SEO ranking signal, but also it will likewise enhance your exposure as well as awareness to the relevant user. Here I am sharing few tips that will sure help you:
Make sure you write an interesting profile in author bio section. This will grab the attention of the user and he will follow you. 
Verify your website and linked your Facebook and twitter profile. A right mark at last of the website is very important as well as it shows that ownership of the website. You can see in above picture.
Create Pinterest board according to keywords (seo point of view). See Here
Include call to action in your boards and pin's description .
Include Pinit Share plugin and Pin share button to your webpage.
Comment, like and Repin relevant pins
Repining other images and videos is a good trick to notify them.
Don't spam. Pin only niche related images and videos
Set a good and eye-catching image as Board cover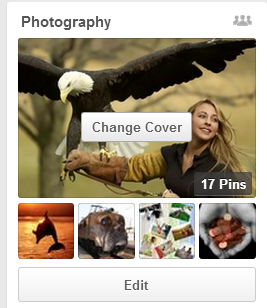 Click on Search option and find what your competitors are doing on Pinterest likes what type of boards and pins they are adding. In this way you will get basic idea for you Pinertest profile.
Don't forget to add your Pinterest profile on other Social Media Channels like Facebook, Google+ etc.
Let me know about these Pinterest marketing tips. If you need help with any of these points, feel free to ask me via comment box. If you find this article useful, do consider sharing it on Facebook and Google plus and other social media profiles for others.